1. How to transfer my documents to ChmPlus Reader?
ChmPlus Reader supports file transfer via HTTP, FTP and iTunes File sharing.
HTTP: you can upload files to CHM+ with any mainstream web browsers, such as Firefox, Internet Explorer, Safari, Chrome, Opera, etc.
FTP: You can drag and drop documents and folders into CHM+ Reader with an FTP client. If you don't know which one to choose, we recommend FileZilla, a great open source FTP client, which is available at https://filezilla-project.org/download.php .
The FTP port for ChmPlus Reader is 2121.
iTunes File Sharing: iTunes File Sharing is the fastest way to transfer documents to ChmPlus. For more information about iTunes File Sharing, please visit https://support.apple.com/kb/ht4094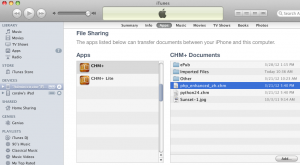 2. What type of documents does ChmPlus Reader supports?
ChmPlus Reader not only supports CHM documents, it also supports the following file types:
– ePub documents
– MS Office – Word, Excel, PowerPoint (.doc, .ppt., .xls, .docx, .xlsx, .pptx)
– iWork '08/'09 (Pages, Numbers, Keynote)
– PDF, HTML, RTF, .mht, Safari webarchives and text files
– High resolution images (jpg, png, gif, bmp, etc.)
– Audio and video
– Various archive file types (.zip, .rar, .7z,.gz, .tar, .z, .xz, .rpm, .iso, etc.)
3. How to organize documents with folders in ChmPlus Reader?
You can manage your documents on your iPhone/iPad or with a FTP software. Most FTP software allows drag and drop files to and from CHM+ Reader. With some FTP software such as FileZilla, you can also drag documents from one folder to another, without downloading them.
4. The page seems to be cut off and I can't scroll to the lower part of the page, what's the problem?
This is because that the document you are reading contains smaller scrollable parts, you should touch and move the area with two fingers.
5. Does ChmPlus Reader support bookmark?
Yes, bookmark is supported (since v 2.2).
6. Does ChmPlus Reader support highlight/annotation?
Yes, highlight/annotation is supported (since v 2.2).
7. Does ChmPlus Reader support document-wide search?
Yes, document-wide search is available for .chm and .epub documents.